Last Spring students at Tudor Elementary raised 1,500 books to donate to a few chosen organizations. One of them was to Rural Alaska Reads program, which is a local student designed organization determined to get more books in the hands of students who live in rural villages in Alaska.
The other choice students made was to send books to a small school, Ajiyal Souss, in Agadir, Morocco. Students chose this school because they had the opportunity to learn all about school in Morocco from their librarian who visited in the spring. Students were so excited to get the opportunity to help add more books to their library.
The initial box weighed 53 pounds and cost several hundred dollars to send. About 6 months later, the box came back because it was over the maximum weight allowed to enter Morocco in a postal package. Students decided to re-strategize and send a much smaller box with mostly paperback books. This time they included cards and letters and descriptions for why the chosen books were in the box. Here is the video of the box being received!
Students were quite excited and decided to create thank you notes to our students. Teachers even recorded videos of students reading the books. Check this one out!
Here is the letter from the school, to our students, sharing their thoughts. We are looking forward to getting a chance to skype with students and teachers at the school in order to truly connect even more!
Keep scrolling after to view pictures~Click on a picture to view it larger!
Hello from Agadir, Morocco.
Dear teachers and Students
We really wanted to write about our experience, how happy we are about the gifts we got [from Tudor Elementary]. We as teachers felt so delighted, we really appreciate it, books are precious gifts it's the best thing you can give because it's a friend that will never leave your side no matter what. So once again thank you.
Students were amazed by the diversity of books and stories they got, their desire to read and learn new things about the language and the other students who were kind enough to share their precious books increased. They started reading and wrote some comments which we would like to share with you
I SURVIVED, some or all the stories are based on true events, and the fact that the heroes are young people is interesting.

MAGIC TREE HOUSE, I am happy to know that we are reading the same books.

PETE THE CAT is so sweet and cute.

Thank you for the signed book, we loved the new words we will try to learn them.

DAIRY OF A WIMPY KID, the way that the story's events are put together is so surreal, like if we capture a real emotional life and transformed it into another world of fun and humor, but still carry a message for the readers.

DIARY OF A WIMPY KID, I loved the movie I will defiantly love the book.

THREE PIGS, [variation] I wonder if this version will be as good as the old one.

SILLY POEMS AND SONGS are so funny we will try to sing some for you in the near future.

THE MYSTERY ON ALASKA…, I love that they are real kids in real places, so we can learn more about Alaska in an interesting way…
Since [the students] got the books and we told them it's from Alaska, they wanted to know more so they asked a lot of questions!
Is Alaska a state?

What's the weather like in there?

When is it the best time of the year to visit Alaska?

How do you manage to do your daily chores when it's night during the day and vise versa?

Do you all speak English or do have a dialect?
It is a one of a kind experience because we are trying to raise our students with the same values that you are promoting: being kind to one another, voicing your thoughts, young people having the power the change what's around you by your good deeds, and that it doesn't matter where you are or where are you from or what language you speak … after all we are all human beings.
We are here to raise the quality of life for every child, we want all of our children to achieve their full potentials, and our task is to make it possible, what you did is a great way to start inspiring them to do more.
Once again it was an honor to be part of this experience,
Thank you,
Hafida Hatik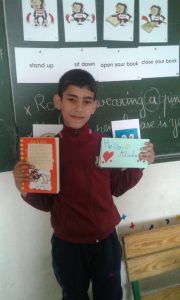 Showing their book gifts and thank you cards!