In becoming global citizens, we explore cultures, customs, perspectives, and festivals of the world. This year, our first major celebration was for Chinese New Year. Over two weeks, hundreds of students explored the customs of Chinese culture and the role it plays in their everyday life.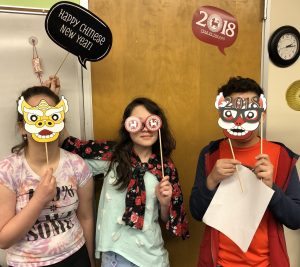 Students engaged in a number of activities over the two week study. Learning the difference between Cantonese and Mandarin, while speaking the language was a highlight for many classes. Engaging with Tangrams and learning the history was an exciting kinesthetic learning opportunity for many. Some students took the opportunity to practice writing in Chinese, while other students embraced their zodiac character traits (and denied other traits) in engaging conversations.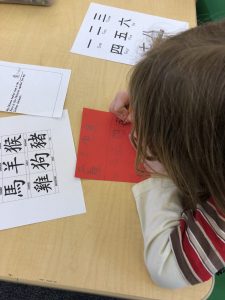 On Thursday and Friday, we were so lucky to have Ellen Meiser, originally from Alaska, visit us from California, to teach us all about the many cultures and diversities of China.  We had no idea there were so many differences and diversities in one country alone, just like here in the United States! Some places only grow rice, some only grow wheat, some are very warm places, while others are very cold. We learned about the difference between the lion dance and the dragon dance and we even got to learn how gunpowder was invented by the Chinese!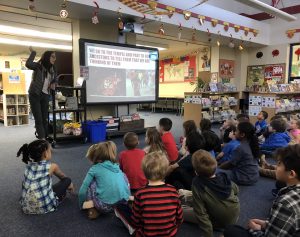 At the end of the presentations, students were given ancient Chinese coins for good luck and were taught to (and practiced) use chopsticks.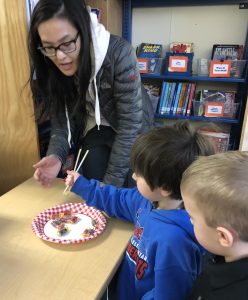 Many times, students made connections between global holidays and their symbolism in the various cultures (Hey, that's what global citizens do). Students drew upon their previously developed knowledge of El Dia De Los Muertos, and considered the symbolism of the dragon between Chinese New Year and the Alebrije's (protectors) of Mexican culture.  So, I decided to honor that learning by placing the Alebrije into the Chinese New Year display and creating a card to share: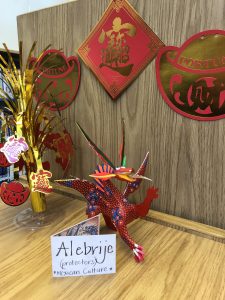 What an amazing global learning opportunity! One step closer to becoming true global citizens. From this opportunity we got to learn about some authentic, often missed, aspects to China and Chinese culture, understand the perspectives from the many regions of China, connect with someone who's roots and family are from China, and explore many aspects of the culture, hands on! What a great week at Tudor.  "Shing Nian Quy-lu"